A photograph captures a moment, videography captures moments in motion. Our highly skilled videographers are trained to capture the sights and sounds of your day without getting in the way. We use state of the art equipment to enhance your video so it may be preserved for a lifetime. Other professional services for video include, but are not limited to: TV Commercials, Stage Shows, Graduations, and Concerts.
Sony EX3 XDCAM
The Sony EX-3 XDCAM has a great look with its three 1/2″ full HD CMOS sennsors. The pixel resolution is 1980×1080. It records in HD 1080i, 720p and 1080p formats. Additional features include slow motion or quick motion recording also known as "under" and "over cranking", slow shutter, selectable gamma curves, picture profile, and interval recording. It also can be used in a multi camera setting with its Genlock option.
The PMW-EX3 compact camcorder with an interchangeable lens system incorporaates three 1/2-inch type Exmor Full HD CMOS sensors, each with an effective pixel count of 1920×1080, delivering stunning-quality HD images in 1080p, 720p, and 1080i HD resolutions. A rich variety of features for creative shooting are incorporated into this camcorder such as "slow & Quick Motion", which is also commonly known as "over-cranking", selectable gamma curves, slow-shutter, interval recording and the Picture Profile feature. Additionally, the PMW-EX3 offers a convenient remote control and multi camera operation capability, which allows use with high-end camera systems.
Sony F3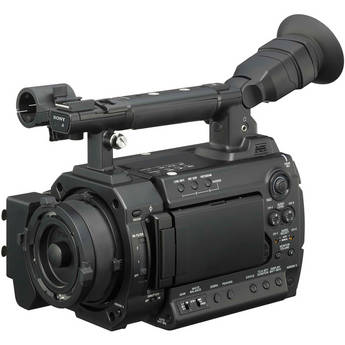 The Sony F3 shares features with the F35 that has been used in high end digital film projects. It also shares a similar workflow with the SxS card based EX1 and EX3 XD cameras. The F3 is equipped with the brand new Exmor Super 35 SMOS sensor that gives this camera a great film look with a shallow depth of field. This new sensor has very high sensitivity and exhibits very low noise levels allowing one to shoot in low light conditions such as during the night.
The F3's PL lens mount feature gives you the ability to use a wide variety of prime and zoom lenses for 35mm film type cameras. The F3 camera body is small, light weight (just over 5 lbs), and exhibits low energy consumption (you can record for approximately 3 hours with only one BP-U60 battery!)
Panasonic P2 Varicam
Panasonic HPX2700G P2 HD Varicam camcorder is a full sized HD P2 card based camera. This HD camera is the solid state version of the Panasonic Varicam HDC27F/HDC27H. The technological advancements Panasonic has made to create this P2 card based camera increases reliability and a speedy workflow. This HD camera is excellent for feature film movies, documentary films, and even sporting events.
The very intuitive engineering makes the camera easy to operate at a very affordable price. The P2 Varicam records at 10-it 4:2:2 AVC-Intra. The Varicam 2700 uses three 1-megapixel 2/3-inch native HD resolution CCDs. It records independent frame 1080 and 720 images in AVC-Intra 50 and AVC-Intra 100 and also the industry standard DVCPRO HD.
There are many advantages to the solid state P2 technology such as immediate on-set viewing of shot footage, additional metadata that can aid in content management, and rapid download times to editing software. You can install up to five 64 GB P2 cards at once, allowing you to record 400 minutes when recording in AVC-Intra 100 at 108024p, 800 minutes in AC-Intra 100 at 720/24p, and 320 minutes in other AVC-Intra or DVCPRO HD formats. The P2 Varicam has 48-kHz/16-bit, four channel digital audio recording.
Red
The RED ONE body is designed for flexibility and functionality. It weights 10 lbs, and has a streamlined package specifically designed to maximize your shooting options. With a 35mm PL lens mount, it allows you to take advantage of the world's finest optics.
Canon EOS 7d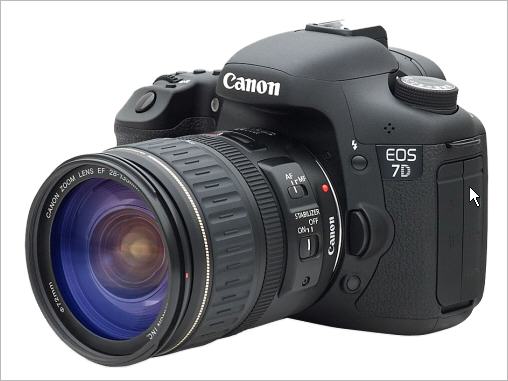 With a host of features designed to enhance every facet of the photographic process, from still images to video, the EOS 7D represents a whole new class of camera. Made to be the tool of choice for serious photographers and semi-professionals, the EOS 7D features an 18.0 megapixels APS-C size CMOS sensor and dual DIGIC 4 image processors, capturing tremendous images at up to ISO 12800 and speeds of up to 8 fps. The EOS 7D has a cross-type 19-point AFsystem with improved AI Servo AF subject tracking and user-selectable AF area selection modes for sharp focus no matter the situation. The EOS 7D's Intelligent Viewfinder provides 100% coverage and displays user-selected AF.
Canon EOS 5D
Canon's update to the wildly popular full frame EOS 5D is here, and it's better than ever. The EOS 5D Mark II has a stunning 21.1-megapixel full-frame CMOS sensor with DIGIC 4 image processor, a vast ISO range of 100-6400, plus EOS technologies light auto lighting optimizer and peripheral illumination correction. It supports Live View shooting, Live View HD videos, and more. It can shoot up to the 3.9 fps, has 9 AF points plus 6 AF assist points, a 98% coverage viewfinder, a 3.0-inch Clear View LCD and a rugged build.